This past weekend, I was joined by 6,000 cyclists and hundreds of volunteers, including many Atlantic City Electric employees, as I rode 75 miles from Cherry Hill to the boardwalk in Ocean City, N.J. to raise awareness and fundraise for a cure to multiple sclerosis (MS) at Bike MS: City to Shore. It's a long ride on a warm September day, but it is invigorating to know all these people, including my co-workers, are all there for the same reason, for a disease that I have fought for almost 4 years.
For me, cycling, volunteering and fundraising for Bike MS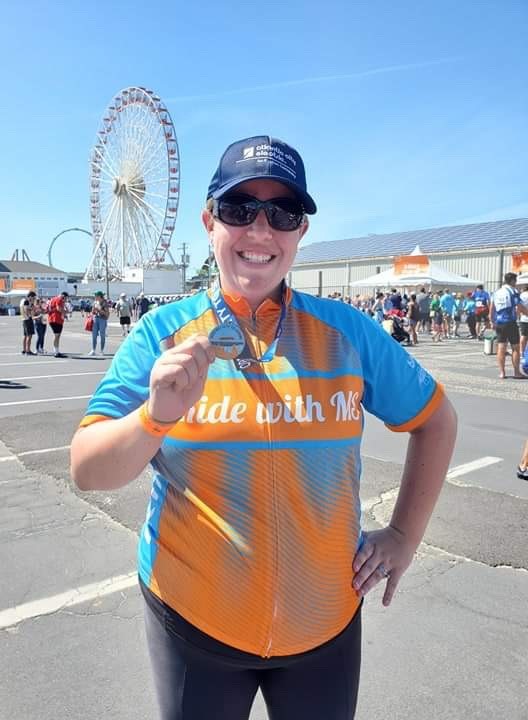 means fighting back and getting closer to a cure. I was diagnosed with MS in 2016. I decided that day that I would not let MS define me, but I would define MS and that is when I got involved in Bike MS. It means so much to work for a company that supports the ride and the MS Society. It makes cycling all these miles and fighting this disease easier knowing I have a team behind me that supports me, many of whom also have a personal connection with MS.
I met Michele Andrews, who works in our Atlantic City Courtesy Center whose sister passed away from complications due to MS. She told me, "I have always felt passionate about volunteering in her memory each year. Fundraising events like Bike MS get us closer to a cure, so no one else has to lose a loved one to this horrible disease."
MS is an often-debilitating disease impacting the central nervous system which includes the brain, spinal cord and optic nerves. It impacts 2.5 million people around the world.
In addition to fundraising for the MS Society, I joined our employees to volunteer on Day 2 of the ride at the lunch rest stop and prepare sandwiches and other energy-boosting foods for the riders completing the full 150-mile round trip. It's a big job. Our team helped fuel riders with more than 10,000 bananas, 16,000 oranges, and 28,000 tablespoons of peanut butter.
I am proud to work for a company that has a strong commitment to the National MS Society and also supports more than 300 other organizations across southern New Jersey. In 2018, nearly 250 employees volunteered more than 21,000 hours which totals more than 2,600 work days! Click here to learn more about Atlantic City Electric's ongoing community initiatives.