As you travel past Wilmington, Del. on I-95, it's hard not to notice the large mural of a heron and its chicks on a structure near the Riverfront, just south of the downtown. What many don't realize is that the community landmark is Delmarva Power's storage tank, which helps us deliver safe, reliable, and affordable natural gas for our customers.
The facility only gets repainted every 20 years, so when its next repainting was scheduled for this year, we saw it as a unique opportunity to give back to our community through an eco-art contest for local high school students. So, we teamed up with several community partners to launch the Paint the Tank contest, including the Delaware Nature Society, Riverfront Development Corporation of Delaware, Delaware Contemporary, New Castle County, and City of Wilmington.
Through the eco-art contest, students submitted artwork capturing the importance of sustaining natural ecosystems and preserving the environment for future generations. The theme celebrates the important relationship between Delmarva Power and the Russell W. Peterson Urban Wildlife Refuge, which neighbors the storage tank. Our adjacent property includes nearly 30 acres of natural woods and marshland that support the wildlife refuge's ecosystem.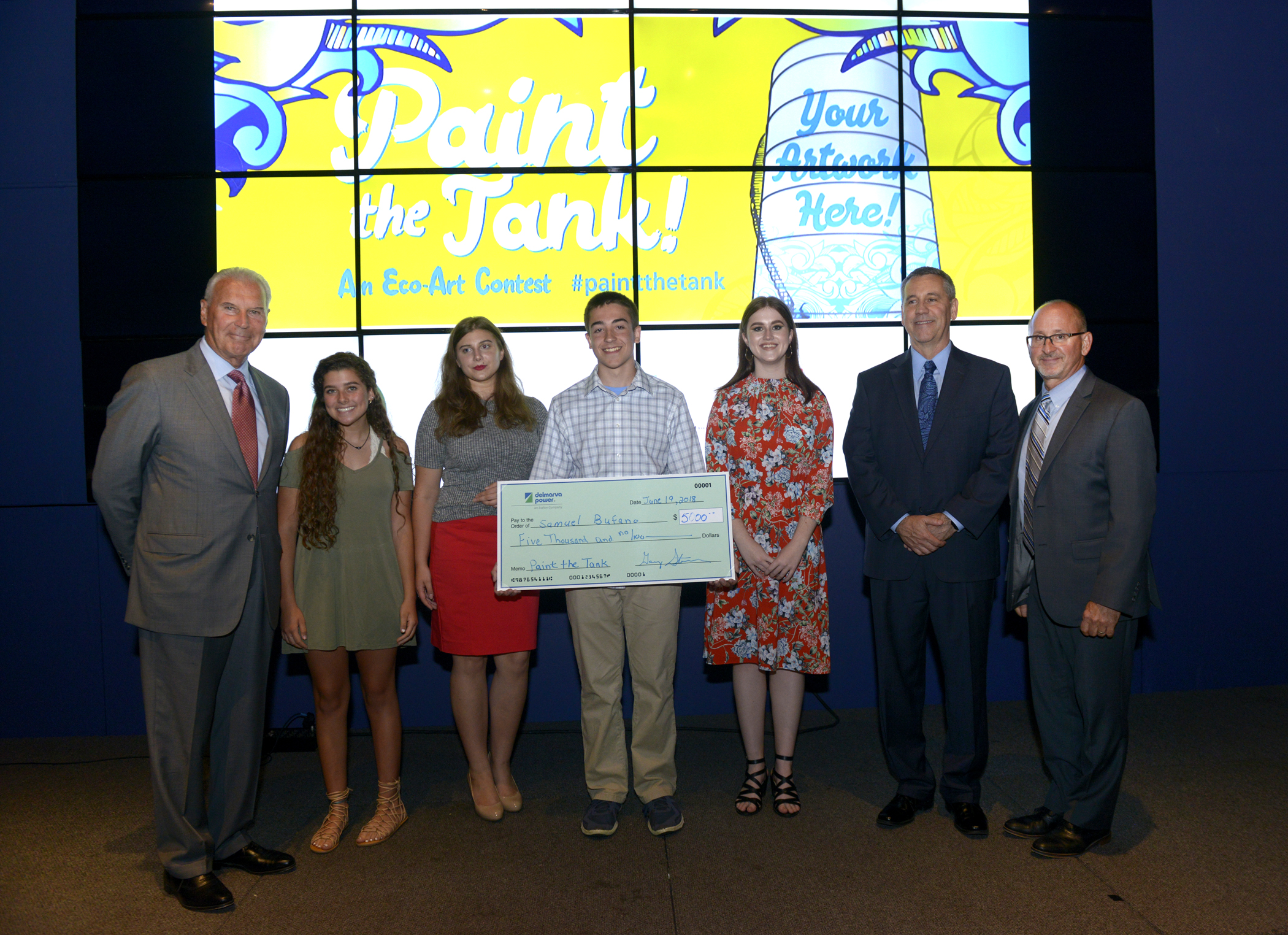 On June 19, alongside Wilmington Mayor Mike Purzycki and our community partners, we unveiled the winner: The Hidden Beauty of New Castle County by John Dickinson High School rising sophomore Samuel Bufano. Samuel received a $5,000 scholarship and three runners-up, Appoquinimink High School rising junior Savannah Gratteri and Cab Calloway School of the Arts graduates Nonna Batrakova and Olivia Henderson, each received $1,000 scholarships. A panel of judges made up of representatives from local government, nonprofit organizations, and businesses selected these murals from nearly 100 creative and thoughtful submissions that poured in throughout the contest.
"It feels amazing, like a dream, like it's not actually happening," said Samuel, still wrapping his mind around knowing his artwork would be seen by millions of people.
Samuel's mural, which he says, "portrays the unity of man and nature," will wrap around the entire storage tank, leaving one question in everyone's mind – which part of his mural is going to face I-95?  We will begin preparing the tank for its new mural later this summer and painting will begin spring of 2019. Follow Delmarva Power on Twitter and Facebook to track our progress and find out!