Pepco is a proud partner of the District of Columbia Public Schools (DCPS) Career Bridge Program, which provides opportunities for high school seniors to participate in professional skill building, career exploration, and internship opportunities to help students develop a plan for after graduation.  Upon completion of the program, students interview with Pepco and our partner contractors of choice for full time employment as general laborers or for entry level positions in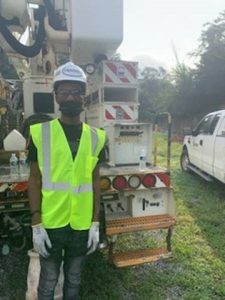 Operations departments, including Overhead, Underground, Transmission and Substation, Meters, and Fleet.
We recently talked with Erick Robinson, a recent graduate of Cardozo Education Campus, about his experience in the DCPS Career Bridge Program.
Nicole: Where did you first hear about this program and what made you decide to join?
Erick: I first heard about the program from the manager of the career preparedness program at DCPS. I also heard that Pepco has a lot of opportunities for me to grow, and it is big and life-changing. I ultimately want to change my life around and do better for myself.
Nicole: What was the program like for you?
Erick: The program comes pretty easy to me because I am determined, and I really want to get into the Pepco business.
Nicole: Did you know anything about the energy industry prior to joining?
Erick: Prior to me joining, I had no knowledge about the energy field. But when I got in, that's when everything hit me. They started telling us about what happens at Pepco, and how things work and that was very interesting to me.
Nicole: What would you say to a young person interested in the energy industry?
Erick: I would tell them go for it.  There's nothing wrong with trying new things. There are a lot of fields in Pepco, not just what we learn about in this program.
Nicole: Are there any areas of the electric energy industry that the program has exposed you to that you're most interested in? After you graduate this summer, what job do you hope to get?
Erick: I'd like to work in the Fleet department because it is hands on. I like doing hands on things because they keep me active, keep my mind focused.  I am hoping I can get a job with Pepco in the Fleet department, but any job counts, because you can move around within the different utilities.
To learn more about our commitment to students and members of our communities visit pepco.com/impact