At Delmarva Power, we are committed to making a difference in the communities we live and serve. As part of National Volunteer Month, our Customer Care team across Pepco Holdings, which includes Delmarva Power and our sister companies, Atlantic City Electric and Pepco came together to support Greenwood Elementary School in Princess Anne, Md., by donating 70 boxes of food, more than 460 school supplies and two $100 gift cards.
When schools face budgetary challenges, teachers often go above and beyond, using their own money to pay for school supplies and healthy snacks or families face challenges affording school uniforms.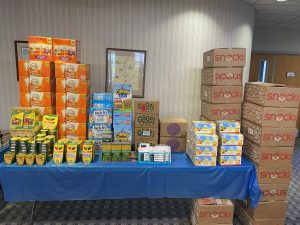 "Although many school supply drives occur in the beginning of the year, students start to runout of items before the year ends," said Nicole Bruno, Resource Management business analyst. "We heard of a need at this school and immediately sprang into action."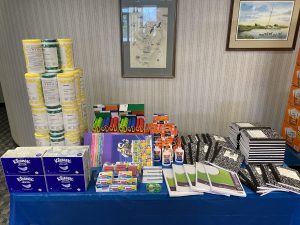 In addition to the original planned collection drive, Bruno set up an Amazon Wish List that helped far exceeded the initial need of a few glue sticks and crayons.
"I did a virtual supply drive with an organization during the pandemic, and it helped me think of ways to do this differently to create the greatest impact because many of our employees are still working remotely," Bruno explained. "The Amazon Wish List is a way to broaden the reach of those who can help, particularly for our employees outside of the immediate area."
More than 50 customer care employees from Atlantic City Electric, Delmarva Power and Pepco came together in less than two weeks to purchase hundreds of school supplies, food snacks and gift cards that will go a long way to assisting Greenwood Elementary.
Our employees continue to find new and exciting ways to support the communities and organizations across our service territory. Click here to learn more about our commitment to the communities we serve.