his Natural Gas Utility Workers' Day, we're honoring the employees who work tirelessly, day in and day out, to safely maintain nearly 3,600 miles of natural gas pipelines in northern Delaware—serving  our 136,000 natural gas customers. As many of us work and learn from our homes, the need for reliable natural gas service is now more important than ever before.
Here is a look at one of the many natural gas workers that keep the gas flowing safely—come snow, rain, sunshine or pandemic. As we recognize these employees and their colleagues, we thank them for their service, for their dedication, and their willingness to safely serve our customers as we power through the health crisis together.
Name: David Titter Jr.
Role: Field Tech Class A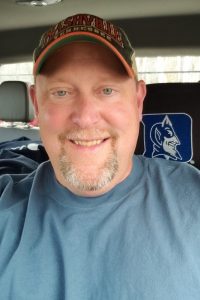 Years with Delmarva Power: 31
Q: How has the pandemic impacted your work?
A: The pandemic has brought many unique challenges in several ways, from communicating with our current and future customers, to working with our contacts in the field. We have adapted to different policies and procedures for the safety of our customers and employees during this time. It has taken some time getting used to the proper protocol (face masks, social distancing, and hand cleaners) but with teamwork and collaboration it's been as smooth of a transition as one could expect.
Q: With more people at home, what has it meant to you working to deliver such an important energy service for customers?
A: I realize how important my role and support is to making sure we move forward with the ongoing work in serving our natural gas customers. I feel that our customers and contractors appreciate the effort that the field techs and the gas engineering team put into our preparation to ensure the work is completed safely and responsibly.  It has never been more evident how critical my part is in keeping the business up and running.
Q: What would you like others to know about your work?
A: It has been a challenging but rewarding time. While many transitioned to working from home, our field techs have been to work every day during this pandemic. Safety is always our top priority and our teams at Delmarva Power have done an outstanding job supplying us with materials we need to stay safe. We as a team, value our service to our customers are thankful that we can keep the gas flowing  to our customers. It has definitely been a team effort to keep things moving forward in this pandemic.