his Natural Gas Utility Workers' Day, we're honoring the employees who work tirelessly, day in and day out, to safely maintain nearly 3,600 miles of natural gas pipelines in northern Delaware—serving  our 136,000 natural gas customers. As many of us work and learn from our homes, the need for reliable natural gas service is now more important than ever before.
Here is a look at one of the many natural gas workers that keep the gas flowing safely—come snow, rain, sunshine or pandemic. As we recognize these employees and their colleagues, we thank them for their service, for their dedication, and their willingness to safely serve our customers as we power through the health crisis together.
Name: Tom Robinson
Role: Utility Service 1st Class
Years with Delmarva Power: 28 years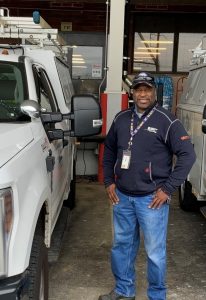 Q: How has the pandemic impacted your work?
A: It has limited my interactions with our customers. Each day offers a different set of challenges to complete to ensure my safety, my co-worker's safety and our customer's safety.
Q: With more people at home, what has it meant to you working to deliver such an important energy service for customers?
A: I've stayed focused on safety. With more people at home, we're seeing increased reports of possible natural gas odors that may have gone unnoticed. In one sense, this is great from a safety standpoint but also means we have to remain focused on protecting ourselves and customers as we visit more customer properties. Thankfully, the protective gear that the company provides protects us and our customers.
Q: What would you like others to know about your work?
A: Working in this business has been challenging but rewarding at the same time. As an African American, I think I bring a diverse presence to those in the field and in the public, while also providing a service that everyone can appreciate. Working in such a diverse service area, I hope that my presence shows other African Americans, both young and old, a role model and strong contributor to their community. I think representation is big factor in our youth's success, so I hope I can serve as that beacon to someone who doesn't know what they want to do with their life and may consider a career in the natural gas field because they now see someone that looks like me.