On Veterans Day, we pause and express our deep gratitude and sincere appreciation to the people who have steadfastly served our country, including many of our own Delmarva Power employees. Thank you for serving the country with courage and dedication.
Veterans bring many unique attributes to our company, including a capacity for leadership, teamwork, integrity and a commitment to excellence. These are core values that we hold as well, and we are grateful to have these employees as part of our team, including Christopher Herbert.
"The experiences, skills and values that we develop in military service directly support our roles here at Exelon and Delmarva Power, and it's why we have such a strong veteran population among our employees," Herbert said. "Safety is at the forefront of everything we do in the military and also applies to every position here at Exelon and Delmarva Power."
Herbert spent nearly 11 years with the United States Army as a soldier and a commissioned officer specializing in aviation logistics. Enlisting after high school, Herbert's service took him to Army bases in Missouri, Virginia, New York and Pennsylvania, and eventually to Widener University for his undergraduate degree and West Chester University for his Master of Business Administration.
Since arriving at the company almost five years ago, Herbert has held a number of positions in infrastructure and investment management, technical services and finance. Currently, Herbert is a capital execution manager on the Nerve Center team, a special initiative supporting infrastructure investments across all of Pepco Holdings, which includes Delmarva Power and our sister companies, Atlantic City Electric and Delmarva Power.
"Someone took a chance on us, and I've been so thankful to be in this space and be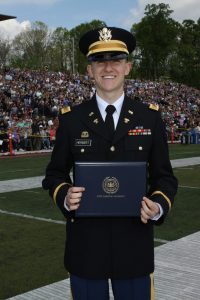 a part of the critical and life-sustaining service that we provide every day," Herbert said. "Being able to share your personal experiences with others, lifting them up based on your successes and the appreciation that's garnered to you for what you've done is profound."
From day one, Herbert has felt a sense of belonging at our company with his fellow veterans. He is a founding member of the Exelon Military Actively Connected (EMAC) employee resource group and has served on its board since its inception. Herbert met an employee through EMAC, who happened to be an instructor for a course he took for his officer commissioning.
"To be able to reconnect in this group through our shared history and background as a veterans was a really cool moment," Herbert said. "There's a value that's allocated to military service and our company really prioritizes it and walks the walk. Running into someone I served active duty with years prior to our time at Exelon, it's really special that we have both found our way to the same place."
Our company is committed to helping veterans and their families and our appreciation extends beyond Veterans Day. EMAC advocates for the recruitment, retention and advancement of veterans and employees who are part of military families all year long. EMAC members support our communities by powering numerous veterans' organizations across our service area through fundraising and volunteerism. Our support for veterans is an extension of our commitment to the people and the communities where we live and work and are part of our effort to powering a cleaner and brighter future for our customers and communities.