Coressa Brown defies convention as a lineworker. As a supervisor in our Underground Department's Transformer Shop, Coressa represents a small but growing number of women currently working in our Underground Maintenance and Construction group.
"Before Pepco, I was working in security," says Coressa, who holds an associate's degree in Business Management and was looking for a new career path when she came to Pepco. "I had no idea what a transformer was."
She successfully applied for a position as a Transformer Tester Helper and has continuously climbed the ladder of success, advancing through the ranks of a C, B, and A class Transformer Tester. Ultimately, she worked her way up to a Lead Transformer Tester. Now she's a supervisor in the same shop.
"Coressa is settling into her new position, and I can already see her making an impact on the department," says Sean Parran, manager of regional electric operations and Coressa's manager. "I could see further advancements for her, and one day replacing me or having success in any of the Exelon Utilities."
Her motivation: The challenges.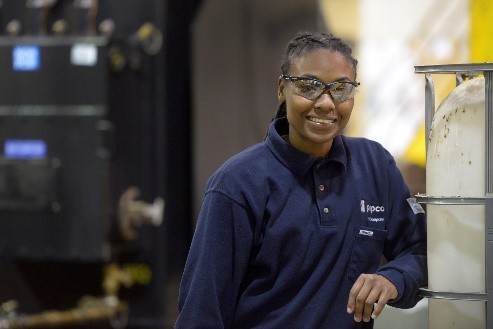 Coressa enjoys the challenge of being part of the 22 percent of women employed in the utility business. As a female leader in a male-dominated craft, Coressa believes gender differences in the workplace shouldn't make anyone feel less than their peers; they should be empowered and inspired to bring something to the table.
At Pepco, we believe in engaging and supporting our colleagues. "As a female, you come into this field thinking 'I'm not going to be able to do this,'" she says. "When I first started here, I couldn't lift a manhole cover; but I was trained on how to carry it. I couldn't carry a ladder – it's three times bigger than me. But I learned the proper techniques and someone walked me through it."
Not only does Pepco promote and encourage growth internally, but we foster professional growth externally in the communities where we live and work. Whether it's bringing high school interns into our operation for an up-close look at our work, or partnering with the District of Columbia and Prince George's County, Pepco is always training and developing local talent.
"It does not matter your gender, or if you're black, white, or Hispanic," says Coressa. "Pepco will train you and make sure you're progressing – they will be there to help you and make sure you move forward."
Her next move: Up
Coressa has worked hard to gain the skills, coaching, and leadership development tools to excel at her craft here at Pepco. She's continuing her education and currently pursuing her bachelor's degree in Business Management. Her long-term goal is to become better and continue teaching the next generation.
"My plan is to keep moving up, to keep progressing in the company," she says. She doesn't want to be complacent or feel unchallenged. "No matter what you're doing, if you want a difference and you want a change, apply to Pepco. They have made my life different."