As we celebrate Hispanic Heritage Month, we interviewed Miladis Medina, a senior work planner at Pepco. Miladis' impact at the company go beyond her job title, she also serves as the president of the Pepco the Organization of Latinos in Exelon (OLE), an impact leader for our annual Employee Giving Campaign, and is an active member of both the Network of Exelon Women and Pepco's EcoTeam.
In the 18 years that Miladis has been with Pepco, she has worked in a variety of capacities within the  customer care department. Most recently, she was promoted to her current position as a senior work planner. She explained that her new role requires a different set of skills and responsibilities than her previous customer care positions, and that she enjoys being involved in decision making and learning the more technical components of the work. She said, "Every day is a new chance for to excel in my position."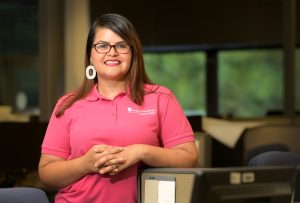 Miladis' drive for excellence was instilled in her at a young age. When her family immigrated to the United States from El Salvador, she was only nine years old. Her parents, who left their home country during a time of war, always encouraged her to do her best regardless of the circumstances. She shared that she carries this lesson with her daily, especially in her professional life. Her work ethic is not the only piece of wisdom she carries with her. In the Medina family, maintaining close relationships with others, especially family, is imperative. Miladis told us, "Growing up, my parents emphasized the importance of family. The traditions we learned at home are passed from generation to generation. To me, Hispanic Heritage Month means family – and familia is where my heart grows every day."
As president of Pepco OLE, building relationships and growing membership comes easily to Miladis. She spends time getting to know members and planning activities with other organizations. When she's not at work, Miladis spends time with her family and travels.