As we celebrate Hispanic Heritage Month, we sat down with Phillip Castro, Senior Manager OCC Operations, active member of the company's military and young professional employee resource groups (ERG), and the president of the Delmarva Power Organization of Latinos at Exelon (OLE).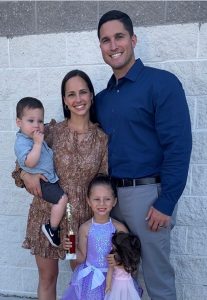 Phillip started his career at Atlantic City electric a few months shy of his college graduation from Rowan University. An electrical engineering major, he was first exposed to the career opportunities at Atlantic City Electric during his junior year. Influenced by one of his professors, who was a retired Atlantic City Electric employee and his brother-in-law, who was also working at the company,  Phillip began to apply for positions with the company. In 2010, he was hired as a system operator. He started his full-time position while still completing his bachelor's degree. Twelve years later, he is now a senior manager of system operations at Delmarva Power, a sister utility to Atlantic City Electric. Phillip explained that the mentorship he received during his first few years on the job has inspired him to be a resource for others.
The support at Delmarva Power doesn't begin and end with his daily work, Phillip told us he appreciates ERGs the company offers, which give employees the opportunity to get involved in a different way. As second generation Mexican American, Phillip explains that OLE gave him a sense of connection with his culture and heritage. In 2020, when he transferred to Delmarva Power there was not an OLE chapter yet, but Phillip was committed to bringing people together to share their cultures and traditions. As someone who enjoys socializing and meeting new people, Phillip was quickly able to recruit members and start the Delmarva Power OLE chapter. The group helps bring people from different departments, cultures, and backgrounds together. "What I cherish the most about being a member of Delmarva OLE are the connections and relationships that I build with the team members of the company. It is about uniting people, whether you are of Latinx descent or if you want to support people of Latinx descent," Phillip told us.