City gardens generate good food and goodwill within communities by providing meaningful connections to the foods we eat and bringing neighbors together. In addition, the fresh produce from these gardens benefit community members by increasing knowledge of nutrition and addressing inequities in food systems that often exclude disadvantaged neighborhoods.
Such a resource, Hustlaz 2 Harvesters Applied Research Garden, exists at Dix Street and 53rd Street NE in the District's Ward 7, where food security has been limited. Hustlaz 2 Harvesters manages the garden in partnership with Garfield Terrace Residence Council, Black Nickel Inc, and Futures First.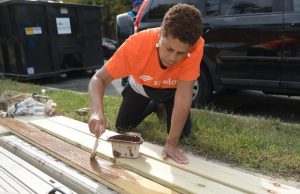 Through our Employee Resource Group, Eco-Team DC, Pepco employees regularly volunteer at the garden, lending a hand in gardening, painting fences, organizing office and storage space and more.
Proud Eco-Team DC member and chapter vice president, Denise Wojcik, first established support for the garden in January 2021. "The most important thing right now is helping the garden have a successful fall planting season to achieve its goal of being a nutritious food source in the community," said Denise. "Eco-Team DC's mission is to promote, support, and drive implementation of 'green' practices that are good for the planet, good for the company and good for employees and the community. With our support for the garden, we are building relationships that show the company's commitment to our customers and local community organizations."
Pepco's Eco-Team DC and Governmental and External Affairs representatives successfully assisted the garden's team in securing a grant of $3,500 to get a much-needed shipping container and solar panel kit. The repurposed shipping container provides a secure place for its applied research tools and the solar generator powers all the garden's equipment, including lights and security cameras.
Muhsin Umar, Co-founder of Hustlaz 2 Harvesters, praised these efforts at a recent volunteer day, stating "Having Pepco's support shows us that they want to see our Ward 7 community thrive. When Pepco's team comes to the garden, they come in numbers, and they come ready to work–whatever the task, as a collective, we work together and finish our stage of work."
On the garden's progress and role in the community, Caleb Ross, co-founder of Black Nickel Inc, adds, "We're appreciative of and wish to continue to work with great companies like Pepco to keep creating success at the garden where community members have a healthy place to grow, and a place to get peace and serenity. We want the community to know the garden doesn't belong to anyone, it belongs to all of us."
In addition to addressing the problem of food insecurity, a goal of Hustlaz 2 Harvesters Applied Research Garden is to use its activity as a bridge to STEM programming for youth groups. Pepco's involvement helps create this connection to youth interested in energy pathways. Through volunteering, youth can interact and network with people who work in the energy industry.
With the garden's new direction and leadership, and strong support from the community and organizations, what started as neglected space is now a beloved and evolving community resource. Due to all of these efforts, the garden has laid the groundwork for success and is on track to complete current projects to enable a strong 2022 growing season.
Anyone interested in volunteering can email contact@blacknickel.org and follow @hustlaz2harvesters on Instagram.