Giving back to the community is a year-round commitment for our employees. During the holiday season, we know the need for assistance can be even greater and it's the time of year when many in our communities need it most. To further highlight our employees' big hearts this year, we're sharing a snapshot of some of the events and programs our employees participated in this season throughout our communities:
Delmarva Power Thanksgiving Food Drive – Prior to Thanksgiving, employees collected non-perishable food items for local food banks and other non-profit organizations across our service area. These food items were either directly shared with families in need or used for larger Thanksgiving events that fed local community members.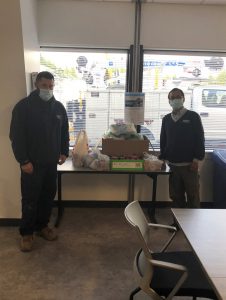 "These last 21 months have brought challenges to all of us in ways we never could have imagined. But for many, putting food on the table was and still is a daily struggle. Thanksgiving just seemed to me to be the time to share our blessings with the less fortunate. All of the organizations across the regions were so grateful for our donations. It allowed them to provide hot Thanksgiving meals to so many in need. It was wonderful to see so much generosity from my co-workers."
Betsy Fols, administrative coordinator at Delmarva Power
Emergency Kit Packing Event –Our employees created 500 emergency preparedness kits to support our storm readiness initiative and donating them to the Delmarva chapter of the American Red Cross. These kits will help assist local families in our community when disaster strikes and educate children about storm preparedness. Kits will include a number of important items, such as flashlights and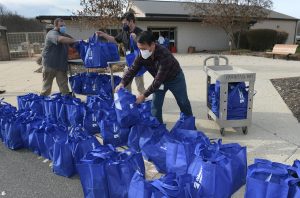 batteries, blankets, water and hand sanitizer. These efforts support our continued practice of helping to restore our communities when in need before and after storm related events.
"I'm so pleased to be a part of this effort to promote safety and preparedness in the communities we serve. With these kits, we're proactively taking the steps necessary to promote safety and preparedness to our younger community members, providing them tools and resources they need to protect themselves and their loved ones."
Vicki Goodman, Esq., assistant general counsel at Exelon, which includes Delmarva Power
Salvation Army Angel Tree –Our employees participated in the Salvation Army's Angel Tree Program, providing Christmas to 140 children. The program provides Christmas gifts for hundreds of thousands of children around the country each year. Once a child has been registered and accepted as an "Angel" their Christmas wish list is shared with donors in their community who purchase gifts, such as new clothing and toys. The gifts are distributed to the family of a registered "Angel" to be placed under the family's Christmas tree.
"It has been an honor to be a part of such a wonderful program this holiday season. You can see the joy in the volunteers' faces as they deliver their gifts, knowing that they are making a child's holiday brighter."
Shanon Henderson, business analyst at Pepco Holdings, which includes Delmarva Power
Southern Delaware Heart Walk – Employees participated in this annual walk, helping raise money for the American Heart Association (AHA), in its effort to save babies and kids who have congenital heart defects, train thousands in life-saving CPR, fund groundbreaking brain and heart research, and champion health equity for all. Through this year's event, the AHA surpassed its goal of raising $140,000 by taking in more than $163,000.
"I walk to change the future! I've been doing this walk for many years and recently joined the American Heart Association's Executive Leadership Team. I didn't know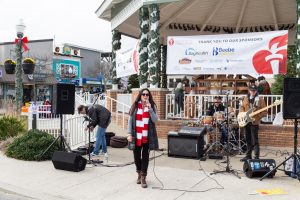 much about heart disease until my mom's 61st birthday. I was in my late 20's, called her before work on her birthday to celebrate her special day and a few hours later I received the dreaded call that she died of a massive heart attack. A few months later my father had a quadruple by-pass surgery, then I realized all the relatives we have lost had heart disease—it was eye-opening."
Regina Alba, oneMDS PHI Business Deployment Lead for Pepco Holdings, which includes Delmarva Power
Volunteerism, supporting our local communities, and safety are core values of our company and these events promote those values even more this holiday season. To learn more about our ongoing community initiatives, visit our Powering Communities webpage.