Giving back to the community is a year-round commitment for our employees. During the holiday season, we know the need for assistance can be even greater and it's the time of year when many in our communities need it most. To further highlight our employees' big hearts this year, we're sharing a snapshot of some of the events and programs our employees participated in this season throughout our communities:
Pepco Provides Thanksgiving Meals and Supplies for Neighbors in Need
Last month, Pepco once again partnered with Catholic Charities to host a Thanksgiving dinner for individuals experiencing homelessness in the Washington, D.C. area. Pepco leaders and staff distributed bagged Thanksgiving meals along with winter coats and personal care packages. All personal care packages were purchased and donated by Pepco employees in advance of the event. More than 300 meals, coats, and personal care kits were distributed.
"It was an honor to support this event and provide a warm meal and essential items to those who need it most. It's been a difficult year for many, but events like this help bring us together and foster a sense of community as we continue to power through these challenging times together." – Amanda Nover, Senior Corporate Relations Specialist 
Making the Holidays Happen for Local Children
Throughout November and December, our employees participated in the Salvation Army's Angel Tree Program, providing Christmas to 150 children. The program provides Christmas gifts for hundreds of thousands of children around the country each year.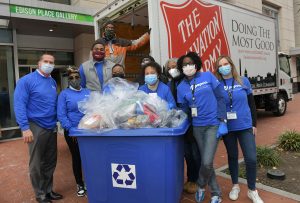 Once a child has been registered and accepted as an "Angel," their Christmas wish list is shared with donors in their community who purchase gifts, such as new clothing and toys. The gifts are distributed to the family of a registered "Angel" to be placed under the family's Christmas tree.
"The Underground Team at Benning Service Center (New Business Construction, High Voltage, CRT and the FIN Teams) always find it a privilege to serve the people that are deserving of our services. We wait anxiously each year to see what the request are. We gladly give from our hearts in hope that it brings joy to the recipients." – Jane McCray, Distribution Supervisor
Volunteerism, supporting our local communities, and safety are core values of our company and these events promote those values even more this holiday season. To learn more about our ongoing community initiatives, visit our Powering Communities webpage.