Giving back to the community is a year-round commitment for our employees. During the holiday season, we know the need for assistance can be even greater and it's the time of year when many in our communities need it most. To further highlight our employees' big hearts this year, we're sharing a snapshot of a couple of the events and programs our employees participated in this season throughout our communities:
Salvation Army Angel Tree – Our employees participated in the Salvation Army's Angel Tree Program, providing Christmas to 165 children. The program provides Christmas gifts for hundreds of thousands of children around the country each year. Once a child has been registered and accepted as an "Angel" their Christmas wish list is shared with donors in their community who purchase gifts, such as new clothing and toys. The gifts are distributed to the family of a registered "Angel" to be placed under the family's Christmas tree.
"It's been a pleasure to volunteer and be part of such an amazing program. We are proud to work with the Salvation Army to make the holiday season that much brighter and joyful for children in our area."
Marie Davis, administrative coordinator at Atlantic City Electric
Operation Safe Haven – On Veterans Day, our employees, and members of our Exelon Militaries Actively Connected (EMAC) and the Organization of Latinos at Exelon (OLE) Employee Resource Groups, teamed up with local union workers and contractors to volunteer with Operation Safe Haven. In just one day, our volunteers put their skills to work as they upgraded energy infrastructure and performed other work including trimming trees, installing new utility poles, replacing overhead wire and multiple transformers, installing a new meter and an underground conduit for new electric service to a bathhouse. The group also installed a new breaker panel, built stairs, sealed up windows, and performed extensive cleanup to prepare the house for finishing. Operation Safe Haven is a community in Franklinville, New Jersey, for veterans and first responders struggling to get back on their feet after homelessness, issues with post-traumatic stress disorder, and other hardships.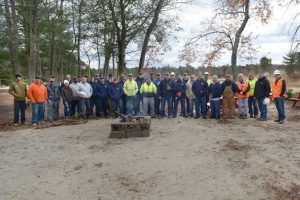 "This was an amazing volunteer event. We are so grateful of our employees, union members and local contractors for their time and dedication to help local veterans who served our country and helped provide the freedoms we all know today."
Ryan Whitman, manager of project execution at Atlantic City Electric
Volunteerism, supporting our local communities, and safety are core values of our company and these events promote those values even more this holiday season. To learn more about our ongoing community initiatives, visit our Powering Communities webpage.