On Veterans Day, we pause and express our deep gratitude and sincere appreciation to the people who have steadfastly served our country, including many of our Pepco employees representing all branches of the military. As we celebrate this day of recognition, we had the opportunity to speak to Senior Manager of Transmission Engineering and Design, Aaron Smith, a veteran and former lieutenant in the United States Navy.
Aaron grew up in a predominately African American community of Brainerd in Chicago, Ill., and then moved to the more culturally diverse neighborhood of Beverly in Chicago's south side. These experiences would prepare him for his life's journey of collaborating with people from many different backgrounds and with varying perspectives.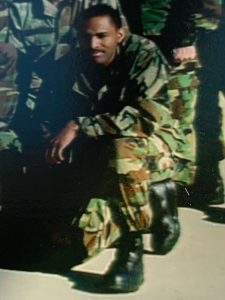 While studying electrical engineering at Tennessee State University, Aaron was introduced to the Baccalaureate degree completion program for the Navy. This program paved the way for officers' candidate school in Pensacola Florida. "I chose the Navy because it provided the most relevant experience to building a career in engineering after serving in the military," said Aaron.
Aaron's time in the military took him all over the world while providing him with tools to lead teams, mentor, and work on large engineering and construction projects. Aaron also explained that his military experience allowed him to serve in many different job capacities such as facility management, maintenance, contract acquisition, engineering, and construction management.
"I got a chance to meet and work with some of the most professional individuals in both military and civilian sectors," said Aaron. "Working with both sides also prepared me for my next phase of life."
Since joining Pepco in 2014, Aaron has held leadership roles in Special Projects and Operations, Project Management, and Transmission and Substation Engineering and Design. Aaron has also been part of several major projects in the Pepco region such as the DC Power Line Undergrounding Initiative (DC PLUG) and Capital Grid – critical projects that are strengthening the energy grid, promoting enhanced reliability and resiliency, and providing job opportunities to qualified residents and businesses in the Washington D.C. region.
"My military experience helped shape me into the person I am today, my wife and children often comment about my attention to detail, never giving up on a task, and my willingness to go the extra mile in all that I do," Aaron said.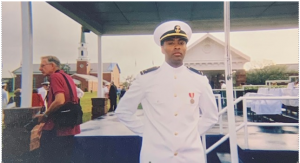 One of the Navy's mottos is Honor, Courage, and Commitment. Aaron sees these attributes within the core competencies employees at Pepco are encouraged to develop and demonstrate every day and this is one of the many reasons why employees with military experience are a great asset to the company's success.
The core values and unique qualities that veterans bring to our company are helping Pepco power a cleaner and brighter future for the communities we are privileged to serve. We are grateful to have employees, like Aaron, as part of our team
Thank you all for your service.