Did you know – through our EVsmart program, we are installing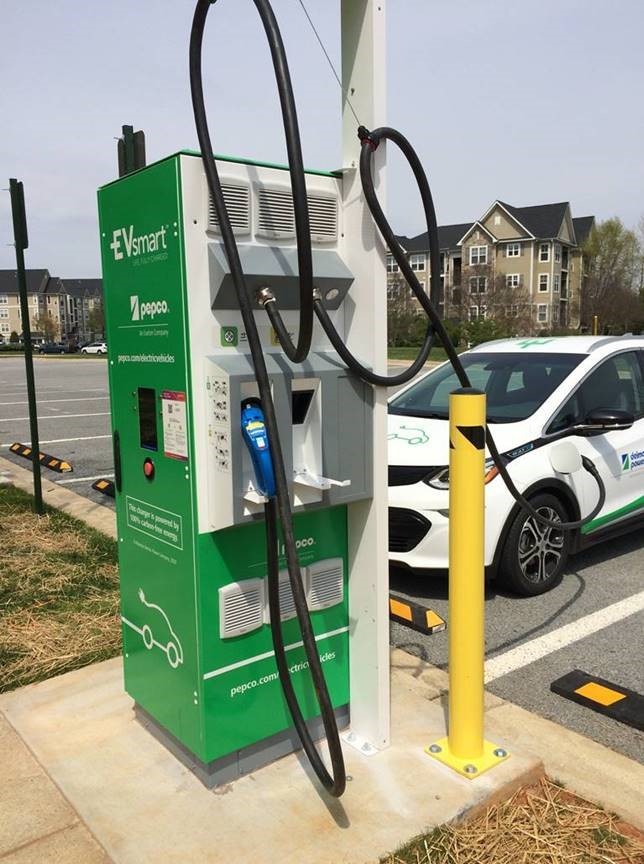 public electric vehicle (EV) charging stations throughout our Maryland service area?
On Apr. 18 we opened two new EV charging stations, including our first DC fast charger, at the Thomas Farm Community Center in Rockville. DC Fast Chargers deliver charge to EVs at a higher power, typically taking about 30 minutes to charge a fully depleted battery to approximately 80 percent depending on the battery size. The newest chargers joins our recently installed chargers in New Carrolton, where two Level II charging stations are located at the Andrew Hanko building. 
Pepco kicked off its Maryland public charging program last September by installing two Level II charging stations in Takoma Park.  Conveniently located in neighborhood corridors, these sites provide EV drivers with a reliable and affordable option to charge their vehicles, while enjoying the amenities of their local communities.
"We're very excited about the implementation of our very first DC Fast Charger in the Pepco service area," said Jennifer Grisham, Business Program manager. "With the continued deployment of EV charging stations, we are able to build a reliable common platform that connects our communities and supports a variety of energy services. This type of modern-day technology will make life a lot easier for our customers with electric vehicles."