Pepco and the District Department of Employment Services recently celebrated the 200th graduate from the Pepco Utility Training Program at the DC Infrastructure Academy (DCIA) – a critical workforce development program that provides the skills and experience necessary to prepare District residents for well-paying careers within the energy industry. As we recognize this milestone, we're looking back at previous graduates who are already making their mark in the energy field.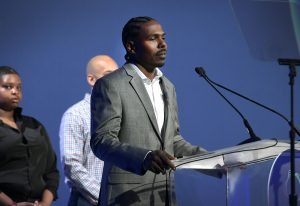 Daniel Ledesma – Pepco Apprentice Line Mechanic and 2021 DCIA Graduate
Before going through the DCIA program, Daniel had a full-time job but found he had few opportunities to move up and build his career. When a friend shared an article about DCIA with him, he decided it was an opportunity he didn't want to miss out on.
He worked hard and made it through the program, interviewed for a role with Pepco, and was offered a position that has kicked off a new career pathway.
"DCIA helped me acquire new skills to support a move to a different field," Daniel said. "Since graduating and taking on a full-time position with Pepco, I have been able to work on critical infrastructure projects and continue my development. I've already achieved my first promotion and am excited for what will come next."
Daniel recommends the Pepco program at DCIA to individuals who are looking to switch careers or those entering the workforce for the first time. He believes that being open-minded and having a desire to learn can lead to endless opportunities.
"Daniel has been a valuable addition to our Overhead Lines team," said Matt Haynes, manager of Regional Electric Operations at Pepco. "He is driven, engaged, and is emerging as a leader amongst his peers. Daniel has a bright future ahead of him in this industry and will be an integral part of keeping the lights on in the community for years to come. I look forward to seeing what the future has in store for Daniel at Pepco."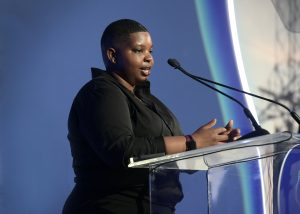 Monet Miller-Rogers – Pepco Substation Junior B Mechanic and 2021 DCIA Graduate
Monet left Washington, D.C. to attend The New School University in New York with a clear goal to pursue a career in public speaking. After completing her degree, the tumultuous year of 2020 presented unexpected challenges that altered her path.
"Upon my return to D.C., I faced difficulties in securing employment in my field of study," Monet shared. "With my mother retired and in poor health, it was imperative that I find a job promptly."
Although she wasn't naturally inclined toward mechanical work and physical labor, Monet took a chance and enrolled at DCIA where she was introduced to an entirely new field that she had never previously considered as a viable career option.
Since graduating and joining Pepco full time, she has tackled many projects that help support the company's 916,000 customers across the District and Maryland.  She has also found opportunities to combine her passion for public speaking with her newly acquired skills, including an opportunity to introduce D.C. Mayor Muriel Bowser at a DCIA event in 2022.
According to Monet, Pepco's program at the DCIA provides numerous benefits to District residents. She believes that the satisfaction of having a career and supporting a family outweighs any challenges that may arise.
"Monet joined the Pepco Substation Construction & Maintenance team in July 2021. She has been intentional in learning her craft and building relationships with her teammates." Said Nigel Rosser, Director of Transmission and Substation Construction at Pepco. "Her commitment to her own development mirrors the values the DCIA is built upon. We are proud of Monet's success thus far and believe her story will empower others like her, in the community to envision themselves as a part of the high performing teams across Pepco."
The Pepco Utility Training Program at DCIA is a 14-week training program that includes both technical and in the field experience to prepare participants for energy careers. All graduates receive a job offer with Pepco or one of the company's contractors of choice. For more information about DCIA, visit dcia.dc.gov