Each summer, Pepco invites college students to participate in internships where they can get an insider view of the company and the energy industry. This year, one of those interns is Danielle Thompson. Danielle isn't new to Pepco, or, our parent company, Exelon. When she was just a high school freshman, she participated in the Exelon Foundation STEM Leadership Academy which reinforced her love for technology. We met Danielle earlier this summer when she supported an NBC Today Show segment that was filmed at the substation where she interns.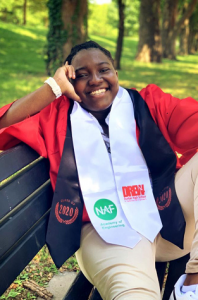 As a well-rounded student, Danielle had varied interests in school, but there were some classes that ignited her interests.  Danielle credits her interest in engineering to two classes that piqued her curiosity during ninth grade: technical drawings and industrial techniques. She did not let her engagement with engineering and technical skills end there. When she moved to the United States from Jamaica during the summer after ninth grade, Danielle attended the Exelon Foundation STEM Leadership Academy.
The STEM Academy is tailored for young women like her, who want to immerse themselves in learning more about energy in a supportive, fun environment. The program exposed Danielle to a plethora of academic and career options to explore. She even had the chance to visit the Calvert Cliff Nuclear Plant, along with 50 – 60 other program participants. During this visit, she saw a turbine room for the first time. She recalls this experience by explaining to how insightful and inspiring her tour was, "When I went to turbine rooms for the very first time, that's when I knew it. I remember seeing the turbine room and thinking yes this is something I can see myself doing long-term."
After the STEM Academy concluded, Danielle continued to excel in her studies and graduated as valedictorian of her class in 2020. Despite graduating high school and starting college during the height of the COVID-19 pandemic, Danielle has continued to thrive.
Today, Danielle is in her third year at University of the District of Columbia, where she majors in mechanical engineering. She told us the decision to pursue this degree was one of the easiest parts of her college experience. This past June, Danielle started her internship in Pepco's transmission and substation department. She told us that every day she learns something new. As a part of her internship, Danielle gets to visit plant houses and see how our substations operate. One of her favorite intern activities is job shadowing engineers onsite and observing what their day-to-day work.
Outside of her internship, Danielle enjoys building with Legos and making origamis.