Pepco is powering local communities in ways that go beyond reliable energy service. Through our Sustainable Communities Grant program, facilitated by Sustainable Maryland, we provide local communities with environmental stewardship and resiliency grants each year.
Since the program launch in 2020, we have provided $250,000 in grants to municipalities, recreational authorities and nonprofits in the District of Columbia and Montgomery and Prince George's Counties in Maryland. Recipients of the 2022 grants are already putting the funds to use!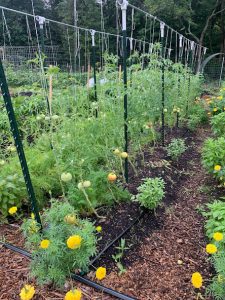 The Friends of the National Arboretum (FONA) in the District received a $10,000 grant last year to support their Washington Youth Garden, located on the grounds of the United States National Arboretum. The grant money helped them construct two raised garden beds with benches, provide more self-guided interactive learning opportunities, and support volunteer groups.
"Friends of the National Arboretum appreciates Pepco's support for the Washington Youth Garden," said Beatrice Dermer, director of Foundation and Government Relations at FONA. "Last year, FONA grew and harvested over 7,500 pounds of fruits and vegetables which were shared with students and families in northeast Washington, DC."
The city of Takoma Park in Maryland also received a $10,000 grant last year, which is being used to make environmental improvements to the Circle Woods area. The city purchased the wooded area in 1995 to preserve a floodplain from development. Unfortunately, several invasive plant species have taken over the land. Takoma Park is using the grant money from Pepco to remove the invasive plants and will plant native trees and grasses instead. The goal is to increase and improve the aesthetics of the woods for residents to enjoy and to promote a healthy ecosystem.
The 2023 grant application process is now open through July 6, 2023. Municipalities, recreational authorities and nonprofits in the Pepco service area can apply for a Sustainable Communities grant each year. This year's program provides:
$60,000 in environmental stewardship grants, up to $10,000 each, for projects focusing on open space preservation, improvements to parks and recreation resources and environmental conservation.
$40,000 in resiliency grants, up to $20,000 each, to support innovative approaches to providing a safe and reliable resource for a community during a time of emergency, such as severe weather.
Interested organizations can learn more about the Sustainable Communities Grant Program and how to submit a grant request on Sustainable Maryland's website.