Pepco is dedicated to preserving and supporting the environment and works to track and mitigate avian incidents on our equipment and property to reduce risks to birds and other wildlife — all while helping ensure reliable service for customers. So, upon discovery of a bald eagles' nest atop a transmission pole near Newburg, Md., and associated impacts to the line, our teams immediately jumped into action to support the safety and well-being of the young eagle couple residents.
Soon after the nest was discovered, it was confirmed that the female was sitting on the nest, indicating presence of at least one egg. Despite high vulnerability of eagles' nests, intervention at the Newburg nest was required to conduct trimming of nest material and install a fecal/guano guard, which prevents bird-related equipment damage. An emergency permit was requested from the U.S. Fish and Wildlife Service and necessary work to protect the eagles, the nest and our critical equipment was underway.
On March 10, a two-person crew ascended in a bucket truck to complete work on the nest. Once the female left the nest with the arrival of the bucket, one egg was discovered! While the mother was away from the nest, the crew used a portable incubator to protect the egg and keep it warm while work was completed. Engineers further limited nest impact by performing the critical task of grounding the line from two spans away, or over 1,000 feet, well beyond the required 660-foot buffer.
In the past several weeks, the egg has hatched, and a new eagle chick has emerged from the nest, thanks to the instincts of the eagle parents and the successful maintenance of the nest site.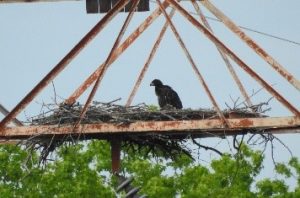 "I have managed about six eagle nests that posed risks to our system in my 11-year career, but this is the first I have had to handle during the active breeding season with an egg present," said Cristina Frank, principal environmental program manager at Pepco Holdings, Pepco's parent company. "We treated this situation with great care and monitored the nest very closely before, during and after the work was completed to limit impacts to the eagle pair and their delicate egg. With confirmation of a young chick in the nest, we can celebrate this successful effort."
What's next for the Newburg Line nest? Biologists will continue to monitor the nest and the chick to help ensure that the young eagle successfully flies out of the nest for the first time. Additionally, further measures to contain the nest in its location and prevent damage to equipment will be installed following the close of the breeding season in the fall.