Building a Resilient Energy Grid for our Customers Drives Us Every Day
To ensure our customers have safe, reliable, and affordable energy, it takes a dedicated workforce with diverse backgrounds, areas of expertise, and innovative ideas. Meet a few of the men and women who are enhancing the local grid to make it more resilient against storms and ready to deliver energy to our customers in eastern Maryland and Delaware every day.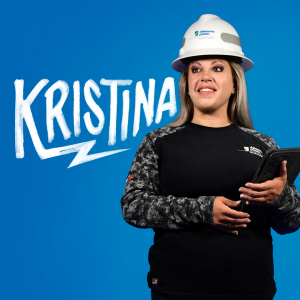 Kristina Brennan has a background in Finance and a master's degree in Accounting, yet she is part of the 22% of women in the utility workforce. Her father was a Lineman contractor for Atlantic City Electric, our sister company, and Kristina's motivation for joining the field. "We used to tease [my dad] and call him a 'storm chaser'," she says. "Right up to his last month of retirement, he found himself travelling south to help with restoration efforts in Florida [during] the 2016 hurricane season." As a Gas Field Services Supervisor, Kristina helps prepare our grid for the future by leading crews who install new gas mains or replace old infrastructure, all with the goal of preventing gas leaks in Delaware. Although she's native to New Jersey, Kristina is also driven by her ability to help Delawareans. "It feels good to be able to keep customers happy, in service, and be a resource in times of need." She recently assisted in mock interviews for local high school students participating in our Path to Success Program. "I have always considered myself fortunate since beginning my career at Delmarva Power," she says. "I've been able to network and gain mentors that have assisted me in advancing my career, so I want to be able to return the favor."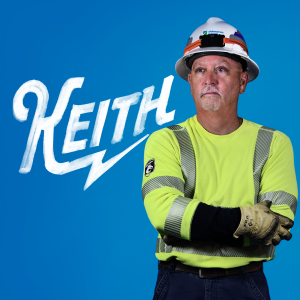 As a Trouble and Serviceman with more than 20 years of experience, Keith Naugle has worked on many projects that were meaningful; but for him, it's the customers who make this job so rewarding. "I have lived in Delaware all of my life," says Keith. "Even though my [power] isn't [provided] by Delmarva Power, the town I live in is and it's comforting to know I'm helping my community when it's needed." Every day is different for Keith – one day he could exchange a meter on a customer's home, support electrician appointments, respond to 9-1-1 calls, or handle requests for outage restoration work. Keith says if there's a 9-1-1 call where a pole has been hit or wires are down, and it's nearby, he's the first to be called. "I had [an emergency call] last night right after dinner," he says. "Once I arrive, I work with the fire department to assess the damage, then call the Delmarva Power Distribution Control to let them know what's going on and what equipment is needed for repairs. Our line crews then come out to make those repairs." Keith started his career in the line crew supporting local restoration, and has travelled to Texas, Louisiana, and Florida providing mutual assistance after devastating hurricanes and he's supported restoration efforts in Chicago following a large snow and ice storm. "Working my everyday duties, and during storms, to help keep the lights on in my community gives me all the satisfaction I need. I've gotten to see the countryside, different [areas of the country], and how other utilities operate," he says. "Knowing I'm making a positive impact on my community, and seeing people smile and hearing 'thank you' is the most important aspect of my job. It's just what we do – we get the lights back on."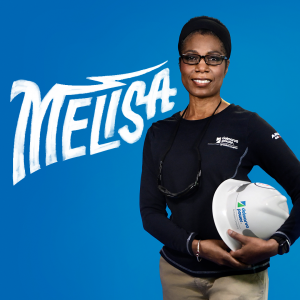 Melisa Fowler manages large, diverse teams who work on complex transmission, substation, and distribution projects across Delmarva Power. She recently led a transmission line rebuild in Sussex County, Del. that replaced existing transmission and distribution lines between our Cool Springs and Indian River substations using stronger steel poles that an withstand hurricane-force winds. "This project involved a lot of community outreach, as there was some impact to residential and business customers, and local highways," says Melisa. "It took a lot of collaboration with internal teams to ensure we lessened those impacts. I take pride in keeping customers happy and seeing the project come to fruition." She's currently working on a similar project in Dorchester County, where more than 11 miles of existing transmission lines will be upgraded with state-of-the-art utility poles. Melisa is inspired by projects that foster collaboration, build great working relationships with her colleagues, and the passion of the people who she works with. She says, "We are human, and we do our best each day to deliver an essential, quality product – electricity and gas – by keeping the lights on and the gas flowing."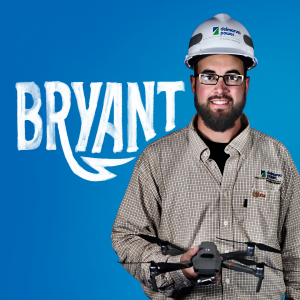 Bryant Messick, a native to Milford, Del., is one of the many employees who are using state-of-the-art technology to enhance our energy grid. In a previous role, Bryant helped improve reliability and motorist safety in Kent and Sussex Counties. "I performed a study on repetitive pole hits in our Delaware service area," he says. "After noticing the same poles had been struck by motor vehicles within the span of a few months, I narrowed the study down to specific stretches of roadway; and with the assistance of our Public Affairs team, I presented my findings to DelDOT." Following the meeting, DelDOT used Bryant's analyses to perform roadway safety assessments and ultimately create a plan to improve roadway safety in those areas where the repetitive pole hits occurred. "We also completed a large-scale overhead to underground conversion based on these findings; and since executing these improvements, these stretches of roadway have experienced significant reduction in pole strikes," he says. "Improving customer reliability and motorist safety in the area where I grew up is the single most important project I've worked on at Delmarva Power." He's also assisted with designing LED streetlight replacements in Ocean City, Md. And now as a Senior Work Planner and Supervisor, Bryant is now responsible for having the LED work orders completed. To date, Bryant and his teams have converted more than 1,200 streetlights in Ocean City. He's also part of our drone program, which supports post storm outage investigations that aren't easily accessible to our crews. He says, "I have been able to identify numerous maintenance items [that needed to be] addressed and was able to send these findings to the proper teams before they caused additional outages."
To read more about the reliability projects that these employees are supporting to make your communities smarter, stronger, and cleaner, visit delmarva.com/Grid.