On Veterans Day, we pause and express our deep gratitude and sincere appreciation to the people who have steadfastly served our country, including many of our Atlantic City Electric employees representing all branches. As we celebrate Veterans Day, we had the opportunity to speak to Senior Work Planner, Karin Groth, a  veteran of the United States Coast Guard.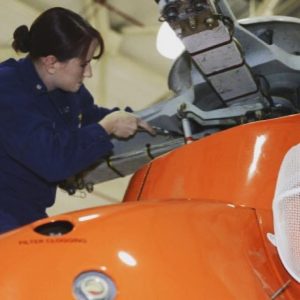 Groth began her service at 19 years old as an aviation maintenance technician and credits her father, an almost 30-year USCG veteran, for paving a clear path for her through his advice and experiences.
During her tenure, Groth worked on the helicopter platform in Atlantic City, assisting with the mechanical, electrical and hydraulics maintenance. However, what truly stood out during Groth's service was taking part in search and rescue flights. Groth explained she has many memories revolving around those missions and holds those emotions closely. Her most memorable experience was her first successful flight and the feeling of absolute accomplishment once it was completed.
In a word, she describes her experience with the USCG as "amazing."
"These were some of the most fundamental years of my life and I learned a lot about becoming an independent person at a very young age. It turned me into the person I am today, and I credit my personality features to my experience with the military," said Groth. "It was just an incredible time of my life and I will hold it close to my heart."
Groth separated from service in 2016 to spend more time with family, but her experiences with the USCG continues to guide her today. Groth attributes the life skills she gained while in the service to the success she has had in her career with Atlantic City Electric. The USGC brought to the forefront the attention to detail and situational awareness needed to succeed in her career and compounded Groth into the employee she is today. Her day-to-day tasks while on the job are exponentially easier- and that she credits to her service with the USCG.
Groth comes from a large military family, including her husband, Andrew Groth, an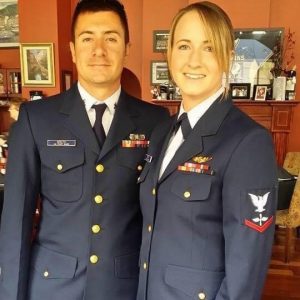 Atlantic City Electric lineworker who also served on the USCG. She plans to take the opportunity this Veterans Day to reflect not only on the impact the military had on her life but reflect and reach out to other veterans to show her appreciation to their service to our country.
Veterans bring many unique attributes to our company, including a capacity for leadership, teamwork and integrity, along with a commitment to excellence. These are core values that the company holds as well, and we are grateful to have employees, like Groth, as part of our team.
Thank you for your service.