As the workforce welcomes a fresh wave of ambitious graduates, eager to make their mark on the world, there are invaluable lessons that can be gleaned from those who have walked the path of longevity and success. Enter Mr. R.P. Johnson, who has for the last half century weathered storms, embraced innovation, and welcomed change as a Pepco employee.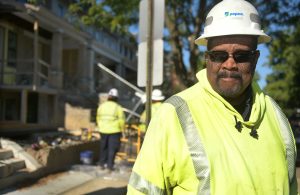 Mr. Johnson's Pepco career began in October of 1969, just weeks after returning home from serving in Vietnam with the Marine Corps. His military background prepared him for the culture of his new company where safety regulations, structure, and tiers of authority were foundational. Even with his ability to thrive in a structured environment, Mr. Johnson credits a willingness to adapt to the shifts within the company – and within society – as paramount to his job satisfaction and longevity.
Spending most of his tenure as a cable splicer and now an underground crew lead, Mr. Johnson is part of a team that maintains and improves the underground electric system. He explained that the role touches a wide array of projects. On the day we spoke, they'd installed service cables to a new site and energized a customer's residence. Given his extensive experience, it's no surprise that Mr. Johnson spent nearly a decade working in our training department and still offers on-the-job training to new employees today.
As he guides younger splicers, he reminds them that this job requires that crew members have mutual respect, great communication, and trust in one another. "You need to have each other's respect, so you'll listen to one another," he explained. Sometimes building that rapport means gaining an understanding of people who are different from one another, "You have to learn how to get along and share information with other people, but what starts as tolerance can end in adopting elements of each other's cultures."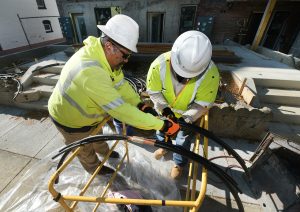 That openness to growth has been a big part of what's kept Mr. Johnson engaged at Pepco for more than five decades. From changes in leadership and corporate mergers to shifts in the industry and social and cultural progress, maintaining a willingness to adjust has been crucial to both his success and his wellbeing. "You have a choice, you can make yourself miserable or you can embrace change," he explained.
While the value of social and emotional intelligence cannot be overstated, Mr. Johnson also encouraged job seekers to consider the physical demands of working outdoors in all conditions. His final piece of advice? "Join Planet Fitness and start getting into shape."