At Pepco and Delmarva Power, we are committed to helping electric vehicle (EV) drivers enjoy more savings and benefits from their experience. Through the EVsmart Program, customers can get rebates on Level 2 chargers, a public charging network, and more. And now, in honor of National Drive Electric Week (Sept. 26–Oct. 4, 2020), our Marketing Manager, Nate Gillespie, shares what it's really like to get around with an EV.
On March 15, 2020, Nate picked up a Nissan Leaf, on loan from the manufacturer. "Nissan wanted Pepco/Delmarva employees to have the full experience," he says. "I was planning to drive the loaner for a week, then circulate it to others in the company to try."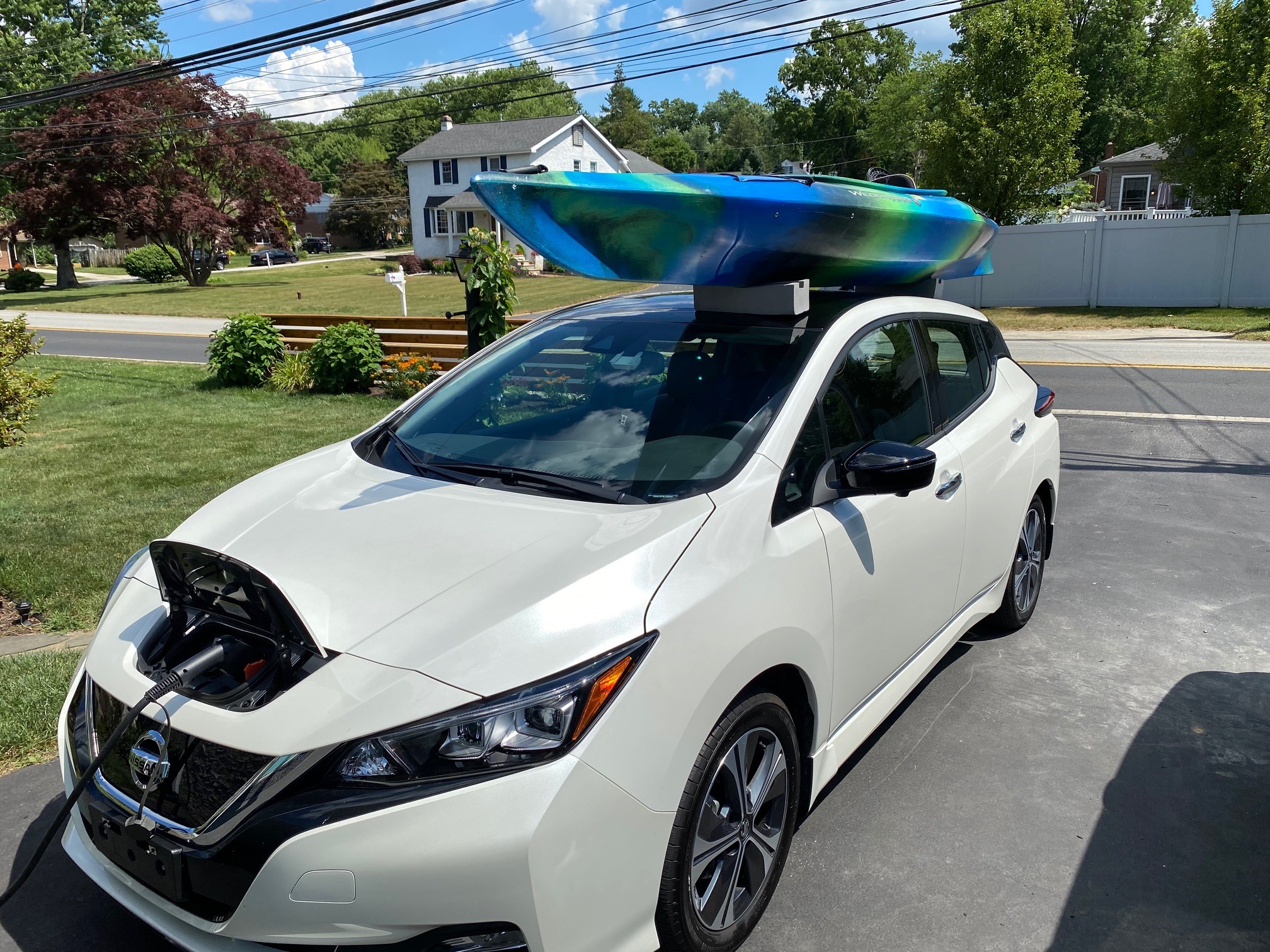 COVID-19 changed that plan. So, the Leaf remained with Nate throughout the summer, giving him plenty of time to see how the car compared to his regular vehicle.  Spoiler alert: He now wants an EV of his own.
"How little it costs to operate the vehicle is a huge winner," he says. "I almost felt like I was driving for free. I pay for electricity to charge it, but it's so much less than the cost of gas." Nate was also surprised by how good it made him feel to leave his SUV at home. "Choosing the EV meant I could offset my own carbon footprint." Another big seller: performance. "If you like the thrill of fast acceleration, nothing beats an EV."
Nate can also speak from experience in response to a common concern. "Some may have concerns  about taking long trips in an EV," he says. "But if you do not regularly travel 200 miles in one day, an EV can probably cover 90 percent of their driving (e.g. commuting, errands, leisure) without thinking too much about it." Even an EV that doesn't have a high range is surprisingly good for everyday use—especially if you install a home charging station, like the  smart Level 2 charger that Nate installed at his home this summer. Did you know Maryland customers can get a $300 rebate for installing a charger? "If you're able to pull into your driveway at the end of the day, plug in, and know you'll have a full charge while you sleep, it's perfect," Nate shares.
As for those long road trips, he has some advice. "Remember that reaching a full charge takes time in some vehicles. Research  the actual charge times of the vehicle you are considering." He also recommends asking the dealer about the car's thermal management. "The Leaf's battery is not liquid-cooled, so when it charges and discharges in a short time period, it gets hot. To protect itself, the vehicle will automatically slow down the flow of energy." This means it will take longer to replenish a charge—even when plugged into a fast charger. "On the other hand, I was talking to someone who drove their Tesla Model 3 from Los Angeles to New York this summer, and each charge was only 15 minutes."
In late August, Nate's turn with the Leaf was finally over. He is ready for his next one. "Driving an EV is so much more relaxing than driving a car that runs on gas," he says. "There's no engine roaring – just a calm, consistent experience." In today's world, "calm" and "consistent" are pros anyone can appreciate.
Pepco and Delmarva Power's EVsmart Program helps EV drivers live life fully charged. Discover EV charging information, savings calculators, state and federal tax incentives—even a $300 rebate for Maryland customers upgrading to a Level 2 charger. Learn more at pepco.com/ElectricVehicles or delmarva.com/ElectricVehicles